Back to blog
5 Ways to Make your Brand More Accessible and Inclusive
Making your brand accessible is a great way to ensure that you're creating an inclusive and accessible experience for your customers and employees. In fact, if you're not sure what we mean by "accessible," let us break it down for you.
Accessible means that the people who come across your brand, use your products and services or deal with your business are able to do so without barriers or limitations. It's about making sure that everyone feels included.
You might be wondering why we're talking about this now. Well, it's because we've been working on accessible brands such as Melo (Public Health Wales), Cardiff Met, Public Health Network Cymru and Ombudsman Wales, as well as taking action within our own branding to make it more inclusive and accessible. We've learned some great tips along the way, and we want to share those with you to help improve your business' brand. So, here are 5 things that will help make your branding more inclusive!
1. Follow the WCAG Guidelines for colour use
We can't talk about accessibility without talking about the WCAG guidelines! They are a set of standards that help you make your website more accessible. They're also known as Web Content Accessibility Guidelines, and they're used by designers and developers to create user experiences that are more inclusive.
The WCAG guidelines are broken down into four main areas: Perceivable, Operable, Understandable, and Robust.
Perceivable content includes things like captions for videos, text alternatives for images or other non-text content, and transcripts for video.
Operable content refers to the ability to interact with a website or app via keyboard or screen readers if needed.
Understandable content refers to the ability for users to easily find their way around a site or app without getting lost or confused.
Robust content means making sure your design works well across many different devices and browsers so everyone can access it no matter what kind of device they're using at the moment.
The importance of accessible brand colours
It's a lot to take in – we know! So, let's start with the basics.
You've got to ensure your brand colours are accessible both on and offline. A great example of this is the work we did for Cardiff Metropolitan University, where it was vital to us that all of our recommended colour combinations within the brand guidelines passed the WCAG 2.1 AAA thresholds.
Whether you're designing a website or signage, it's important to follow WCAG guidelines both digitally and non-digitally. Colour Contrast is vital to making sure that people with disabilities can easily understand what they're looking at, and something we were very focused on during our recent brand work. It's also particularly pertinent for people who are colour blind, but it also applies to anyone who has trouble distinguishing between certain colours.
Colour blindness affects approximately 1 in 12 men (8%) and 1 in 200 women in the world. In the UK this means that there are approximately 3 million colour blind people (approximately 4.5% of the population).[1]

[1] Colour Blind Awareness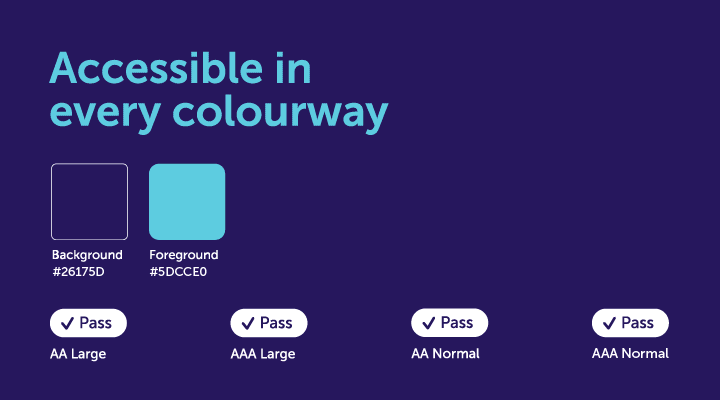 Accessible fonts and typesetting
Fun fact about us (and most graphic designers!) we love a good font, and in fact have a whole Slack channel dedicated to sharing our favourite ones! However, not all fonts are created equal, both in design and in accessibility. Fonts are one of the first things that people notice when they look at the text on your website. However, if you choose an illegible font or typeface, it could make your site look dated and unprofessional, or it might make it inaccessible.
The size of the font is also important to consider when choosing a font for your website. Make sure to test the font size with different screen sizes and resolutions to ensure that it looks good across all devices. Accessible fonts are those that can be read by people with visual impairments such as dyslexia and colour blindness, as well as those who don't speak English as their first language. Consider the compactness of the letters and letter spacing, do they start to blur together when made smaller?
Built-In Accessibility Tools on Your Site
Anyone with a website knows how important it is to get people to visit your site. If they can't find what they're looking for easily, they might not come back. That's why it's crucial to make sure that your website is built with accessibility tools in mind.
Did you know that 1 in 7 people have some form of disability?[2] For some, this can impact their ability to browse, buy and access online content or services.[2]

[2] World Health Organisation
One tool that can help you do this is ReachDeck. This accessibility toolbar allows disabled users to have an experience without barriers when they're on your website. Some of the features included text to speech, translation, picture dictionaries, mp3 maker, screen mast, text magnifier, webpage simplifier and more. Using tools like this allow your website to become WCAG compliant. Through the dashboard, you can get an insight into common issues at WCAG Level A, AA and AAA as well an overview of readability and broken links affecting your website. From here you can identify and improve elements that will impact your website's accessibility and useability, allowing you to make it more inclusive. To see ReachDeck in action, check it out here.
Only 1 in 10 people who are in need have access to assistive technology.[3]

[3] World Health Organisation
This statistic shows just how important it is that you create experiences that provide those in need with the tools to navigate your information easily. Where assistive technology is unavailable to some, they are being excluded from a wide variety of content online.
Another tool that can help improve accessibility on your website is ReadSpeaker, which we've applied to the Public Health Network Cymru website. This tool lets users read aloud the text on your site so that people who are visually impaired or have other disabilities can still use it without any difficulty whatsoever. It also includes built-in translation support, making it easy for users around the world to read whatever language they prefer.
Use Alt-Text
Alt-text is a way to give screen readers a little information about an image, so that those who can't see the image get the same experience as those who can. It's also a way to make sure that search engines can access the content you're sharing (there's a free, handy SEO tip for you!).
For example, if you share a link on Facebook and Twitter with no alt-text, a blind user would hear something like this: "Facebook post by [your name]." But if you add alt-text to your post, they'll hear: "A link to [my business] website." It's a small difference, but it makes all the difference in how people perceive and digest your content.
Don't be Digitally Biased!
Digital bias is when you create something that caters only to those who are online. For example, if you only advertise online and don't make your brand available offline (in print), you may be excluding people with limited access to the internet or devices, such as the elderly or those living in deprived areas. Making your website so it has printable pages or resources could ensure more people can access your brands resources. For example, printable workbooks or sheets.
Another way digital bias can affect your business is through copywriting. If you write copy in a complicated way that requires a high level of reading skills, that could also exclude some people from engaging with your brand. It's important to keep in mind your audiences reading age and ability when you're writing your copy!
Why is Accessibility so Important?
There are many barriers when it comes to accessibility within brand design, which can affect people with disabilities in different ways. For some people with disabilities, these barriers aren't just inconvenient—they can be downright dangerous. For example, someone who is using a screen reader program might not be able to navigate certain parts of a site if there's no way for them to know what links are there or where they lead without being able to see them. This could mean they might end up clicking on a harmful link without realising it.
These issues aren't just limited to websites and software—they also apply to social media posts and marketing materials as well. If you have ever tried posting something on Facebook only to realize that the post doesn't show up at all because your browser doesn't support JavaScript (like Safari), then you know how frustrating this can be!
Taking the steps to reassess your brand for accessibility can make all the difference, and will speak to your brands values of accessibility and inclusion. Hiring an agency to ensure this is done to the best standard will ensure you do not lose brand integrity during the process, and will allow you to openly discuss and visualise the issues and rectify them.
Redesigning your Brand to be Accessible and Inclusive
We've talked about why accessibility and inclusivity are important for your brand, and how to make it happen. But what's next? Well, the future is here—and if your brand isn't ready for 2023, it will be left behind.
We're here to help you update your brand with accessibility and inclusivity in mind, so you can make sure that you're not only ready for the future—you're leading it!
If you want to get started on updating your brand, or if you want to talk with us about how to make your brand more accessible, get in touch!
Contact us
Written by Alice-Rae Pringle
Digital Content Manager