Wikipedia describes branding as: 'a name, logo, slogan, and/or design scheme associated with a product or service'
Brand identity is the combined message communicated through these elements to create an overall image of how that business wants to be perceived by consumers.
Pop quiz!
Can you name the companies these logos belong to?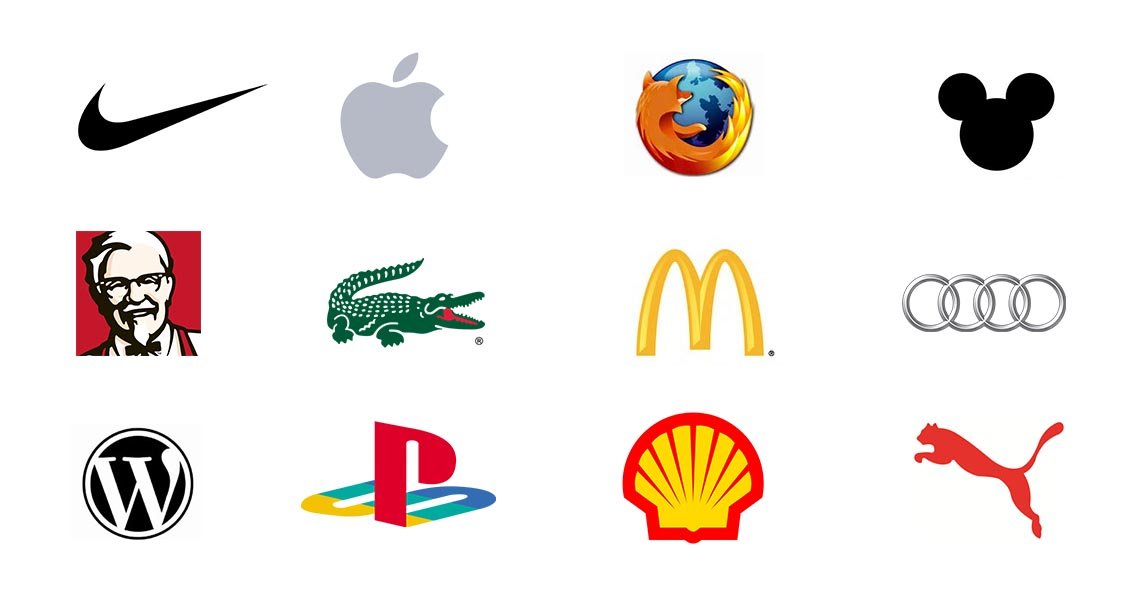 But, as the title suggests… it's not just about a logo
A well thought out brand can give a major advantage in increasingly competitive markets, by aiding and promoting instant public recognition. It allows you to connect with your target audience and to communicate core values, what you stand for, why you are unique and why you have what they need. The decision to buy from a company is made in a matter of moments; do you buy from the one that has and conveys a professional image or the one that looks amateurish with no synergy in the face they show the consumer. If you chose the latter, then you don't get it and your brand identity is probably not all it could be! Better read on then…
Core values and aims
To brand something properly you need to understand the core values and aims of a business and to combine the values of the brand with the visual identity. You should take every opportunity you can to promote brand recognition. What does your brand stand for and what do you want people to think of your company? Is your branding consistent and are you using it properly and to it's best advantage? How the identity should or shouldn't be used, across a wide variety of mediums and platforms is vital, it allows you to keep control of how your company is represented and perceived.
Items to consider include: the logo, a slogan, stationery, corporate colour schemes, corporate typeface, marketing collateral, clothing/uniform, signage (interior and exterior), email/ecommerce items, website…and that isn't the half of it! Nowadays, social media plays a large part in your company's exposure to the customer base. Are you using this correctly? Is your branding carried over into your web and social media sites? Your logo and brand colours should feature prominently in your e-business so that this reinforces your identity and promotes further recognition of the brand. If you aren't getting the results you hoped for, you need to ask why? Is this because of the way you are representing yourself and your business…the brand needs to work in every aspect of your business. People want something, they want the best and they want it now. They have expectations based on the image you project so if you aren't projecting the right image, you are missing the chance to connect with potential customers. Communicate the right precepts and live up to them, and you will create a loyal, and growing customer base.
Creating a comforting environment for your clients
Have you ever noticed how you can walk into a McDonalds or Starbucks in any part of the country/world and they basically look the same. Well, that's the brand identity talking. Loudly and cohesively. And what it is basically saying is…
"You are here in a familiar and comforting environment. Don't worry, we will look after you and give you what you want, as we always do". People like what is familiar and what delivers; do this and brand loyalty is assured. Connecting with people is key. Whether it is convincing people to buy, or encouraging them to support something you support, a good branding can generate a lot of positive interest and recognition.
It's a big subject this, and we can't possibly cover all aspects of it here. Some people will intuitively understand the value of branding; some won't. People often don't see the 'big picture' and are not willing to invest (and invest is the key word here) in a comprehensive brand strategy. That's just false economy…it IS an investment, not an expenditure…would you build your own home extension or would you hire a professional to do it? And on that same subject, would you hire the company that had the sense to use a professional for their branding or the company who did it on their computer in the back room and ended up with a logo made up of clip art, that they love…. but which is actually crap and does nothing for their business!
Think beyond your logo
If you want your branding to work to the best advantage, you need it done properly…and if you need it done properly…call a professional.
"We just want a logo" is a phrase heard far too often! That's just putting your eggs all in one basket. While you are at it, shall we shoot you in the foot as well!
Get in touch
At Martin Hopkins Design we know how to make a brand sing. We have loads of experience in taking your dream brand and turning it into reality; a reality that works for you and stands the test of time.
Call us today on 029 2046 1233 or email [email protected].
Start your project
Martin Hopkins is owned and run by award-winning creative minds. If you have an exciting new project, submit your brief and we will be in touch to give you a project quotation based on your requirements.